"Dripping with honeyed beauty and glowing with heartfelt warmth, this landmark album is a triumph. Singer-songwriter Gina Williams and guitarist Guy Ghouse have laid down an important stepping stone in what will hopefully be an irresistible and sustained renaissance in Noongar language and culture...But this is not only an important cultural document - it is a plain lovely musical gem...4.5 stars..."
Stephen Bevis, Arts Editor
The West Australian
Gina Williams and Guy Ghouse are excited to release their critically acclaimed debut album.
Titled Kalyakoorl (which means Forever), this album is a glorious journey into the incredibly rare and beautiful Noongar language. Kalyakoorl is brimming with evocative, beautifully crafted songs and showcases the jaw dropping combination of Guy's guitar mastery and Gina's incredible voice.
Recorded, mixed and mastered at Crank Studios with Lee Buddle (Kelly Clarkson, Justin Bieber, Katie Noonan, Joni in the Moon), Kalyakoorl is informed by four principles; Koort (Heart), Moort (Family), Boodja (Land) and Koorlangka (children and legacy). Kalyakoorl features the extraordinary talents of Russell Holmes (Piano), Roy Martinez (Bass), Arunachala Satgunasingam (Percussion) and introduces Gina's daughters Lauren and Bella McGill (backing vocals).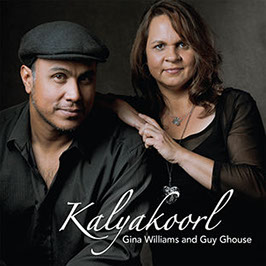 "Lyrically emotive and culturally integrated, Kalyakoorl is also well constructed, swinging between thematic elements and melodies with ease. Williams' voice is incredibly welcoming, language barriers be damned."
Cam Findlay
The Music