Gina Williams & Guy Ghouse
"Williams speaks and sings from the heart of her broken childhood and gradual reconciliation with what matters — Koort, Moort, Boodja, Koorlangka: heart, family, land, children and legacy — set out in the pivotal number, Song for Uncle Tom (Hayden).
Many still struggle to unite those four elements but Williams and collaborator/accompanist Guy Ghouse brought it all home to Government House Gardens on Saturday — and then some."
David Cusworth, The West Australian
Koort (Heart) is our latest album; a live offering which was recorded at the 2021 Perth Festival, in the grounds of Government House.
Koort continues to work off the premise that "it takes a village to raise a child." Only this time it's personal; following Gina's own journey. As a product of the Stolen Generations, Gina was raised by four families (through adoption and foster care). Thanks to the village, she grew up to break the cycle of intergenerational trauma and become a champion in our community.
Again, Gina and Guy are joined on stage by Russell Holmes, with special appearances on backing vocals from Gina's daughters, Lauren and Bella. Told in both Noongar and English, this is a story of deep sadness and great joy, because we all understand what those things mean, in anyone's language.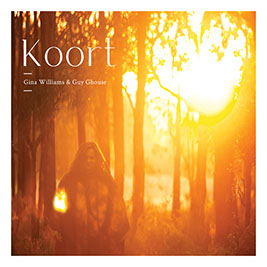 "With her brilliant guitarist collaborator Guy Ghouse, and a rich but restrained blend of Dolce Ensemble strings and piano, Williams has recorded 12 songs for her third album, Koorlangka (Children)...making the sweetly gentle lullabies she has written even more poignant. Lush tracks make way for simpler ditties...with infectious rhyming lines for kids. For adults, there's a husky "go to sleep" rendition of Moon River and pert, Ella Fitzgerald-inspired swing in Keyen, Koodjal, Daambart (One, Two, Three). Williams's warm, soothing vocals blend with Ghouse's fine playing to touch the emotions with unexpected tenderness."
Victoria Laurie, The Australian
February 13 marked the anniversary of the Apology to the Stolen Generations, and was a perfect occasion for Gina and Guy are thrilled to release their third album Koorlangka (Children/Legacy).
The first of four works to be released on February 13 every year until 2023, Koorlangka is a legacy work that invites listeners "back to the campfire." The focus is on the entire community learning to sing language songs together to pass on to our children as a legacy of love and healing.
A stunning hybrid of Noongar and English, Koorlangka features the stunning Dolce Ensemble, guided by the brilliant Russell Holmes, who has written all the string arrangements. It includes a beautiful translation of Moon River. .
Once again, this album has been recorded on Noongar country (Perth), Western Australia, mixed and mastered at Crank Studios with Lee Buddle.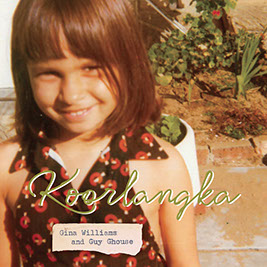 "Utilising the good, simple things in life, namely strong story telling set to a good tune and delivered with authenticity and a considerable degree of finesse, Bindi Bindi is a delightful album that deserves to be heard and, hopefully, will increase awareness of this beautiful language and ageless culture...Stirring."
Phil Bennett, Nova Magazine
Gina and Guy are thrilled to be able to present their second album Bindi Bindi (The Butterfly).
10 tracks of incandescent vocals and guitar brilliance, featuring some of Perth's finest musicians.
This album follows on from their critically acclaimed album Kalyakoorl (Forever), taking listeners on the continued journey across the four principles of Koort (Heart), Moort (Family), Boodja (Land) and Koorlangka (Children/Legacy). It includes a stunning translation and reworking of the iconic Australian song Under the Milky Way by The Church.
Recorded on Noongar country (Perth), Western Australia. Once again recorded, mixed and mastered at Crank Studios with Lee Buddle.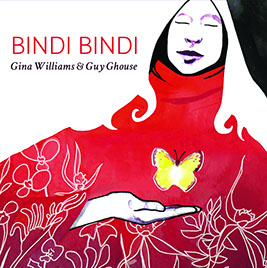 "Dripping with honeyed beauty and glowing with heartfelt warmth, this landmark album is a triumph. Singer-songwriter Gina Williams and guitarist Guy Ghouse have laid down an important stepping stone in what will hopefully be an irresistible and sustained renaissance in Noongar language and culture...But this is not only an important cultural document - it is a plain lovely musical gem...4.5 stars..."
Stephen Bevis, Arts Editor
The West Australian
Kalyakoorl (which means Forever), is a glorious debut journey into the incredibly rare and beautiful Noongar language. Kalyakoorl is brimming with evocative, beautifully crafted songs and showcases the jaw dropping combination of Gina's incredible voice and the guitar mastery of Guy Ghouse.
Recorded, mixed and mastered at Crank Studios with Lee Buddle (Kelly Clarkson, Justin Bieber, Katie Noonan), Kalyakoorl is informed by four principles; Koort (Heart), Moort (Family), Boodja (Land) and Koorlangka (children and legacy).
Kalyakoorl features the extraordinary talents of Russell Holmes (Piano), Roy Martinez (Bass), Arun Satgunasingam (Percussion) and introduces Gina's daughters Lauren and Bella McGill (backing vocals).
Kalyakoorl, ngalak warangka (Forever, we sing)
So excited about this!
Make sure you get your very own copy of the sheet music to accompany our first two albums, Kalyakoorl and Bindi Bindi.
Song sheets, translations and reduced charts for guitar, voice and piano in this beautifully presented book.
Suitable for schools, community choirs and groups and anyone interested in Noongar language.
Order your copy from Magabala Books.
https://www.magabala.com/products/kalyakoorl-ngalak-warangka-forever-we-sing