"Utilising the good, simple things in life, namely strong story telling set to a good tune and delivered with authenticity and a considerable degree of finesse, Bindi Bindi is a delightful album that deserves to be heard and, hopefully, will increase awareness of this beautiful language and ageless culture...Stirring."
Phil Bennett, Nova Magazine
She's here!
Gina and Guy are thrilled to be able to launch their second album Bindi Bindi (The Butterfly).
10 tracks of incandescent vocals and guitar brilliance, featuring some of Perth's finest musicians.
This album follows on from their critically acclaimed album Kalyakoorl (Forever), taking listeners on the continued journey across the four principles of Koort (Heart), Moort (Family), Boodja (Land) and Koorlangka (Children/Legacy). It includes a stunning translation and reworking of the iconic Australian song Under the Milky Way by The Church.
Recorded on Noongar country (Perth), Western Australia. Once again recorded, mixed and mastered at Crank Studios with Lee Buddle.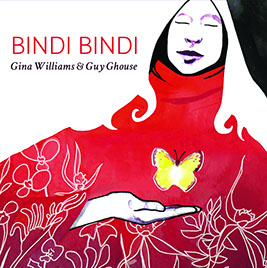 "Dripping with honeyed beauty and glowing with heartfelt warmth, this landmark album is a triumph. Singer-songwriter Gina Williams and guitarist Guy Ghouse have laid down an important stepping stone in what will hopefully be an irresistible and sustained renaissance in Noongar language and culture...But this is not only an important cultural document - it is a plain lovely musical gem...4.5 stars..."
Stephen Bevis, Arts Editor
The West Australian
Kalyakoorl (which means Forever), is a glorious debut journey into the incredibly rare and beautiful Noongar language. Kalyakoorl is brimming with evocative, beautifully crafted songs and showcases the jaw dropping combination of Gina's incredible voice and the guitar mastery of Guy Ghouse.
Recorded, mixed and mastered at Crank Studios with Lee Buddle (Kelly Clarkson, Justin Bieber, Katie Noonan), Kalyakoorl is informed by four principles; Koort (Heart), Moort (Family), Boodja (Land) and Koorlangka (children and legacy).
Kalyakoorl features the extraordinary talents of Russell Holmes (Piano), Roy Martinez (Bass), Arun Satgunasingam (Percussion) and introduces Gina's daughters Lauren and Bella McGill (backing vocals).